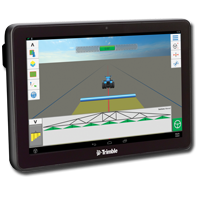 Trimble Autopilot
The Trimble® AgGPS® Autopilot™ automated guidance system will automatically steer your vehicle at one inch repeatability from plant to harvest in any field pattern.
Trimble's AgGPS Autopilot guidance system extends your operating hours so you can work when you need to, maximize the precision of your rows, and even decreases fuel and input costs.
Simple to use-the Autopilot system connects to your vehicle's power steering system, then using the in-cab display you can select from straight, curve, pivot, and headland field patterns and view the system operating. Once the Autopilot system lines up the vehicle at the beginning of a row, the automated steering guides the vehicle smoothly while the display provides visual feedback on your course-it's that simple.
Works on all terrain-T3™ terrain compensation technology ensures the AgGPS Autopilot system works on slopes and rough terrain. Inertial measurement technology corrects for roll, pitch, and yaw to insure you are where you want to be, even in the roughest ground conditions. No other guidance system on the market offers 3 axis terrain compensation!
The Autopilot system is now available with the AgGPS CFX™ or AgGPS FmX™ integrated displays - offering a touch-screen with 3D perspective views and easy to use software for GPS guidance, automated steering controls, multiple field patterns, and record-keeping.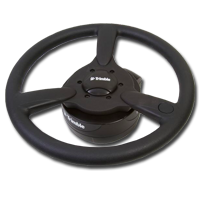 Trimble EZ-Pilot
The Trimble® EZ-Pilot® assisted steering system provides high-accuracy steering at an affordable price. The EZ-Pilot system uses a compact electric motor drive that is integrated into the steering column to turn the vehicle's steering wheel.
The Trimble® EZ-Pilot™ steering system features a sleek design integrated into the steering column, providing clear access to instrument panels and controls. It turns the steering wheel- your vehicle's original wheel or an optional wheel-using GNSS guidance from the CFX-750™ or the FmX® display. Vehicle steering is immediately adjusted to compensate for rough terrain or slopes and hillsides with the new Trimble T3™ Enhanced Terrain Compensation Technology. And higher torque delivers better steering of vehicles with more rigid steering systems, such as floaters. Let the EZ-Pilot® system keep you on line so you can focus on other important tasks.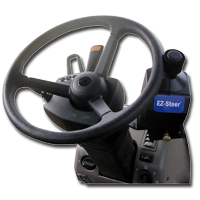 Trimble EZ-Steer
Assisted Steering System - When it comes to simplicity and stress-free in-field operations, the Trimble® AgGPS® EZ-Steer® assisted steering system is number one.
The EZ-Steer system uses GPS guidance from the AgGPS EZ-Guide® 250 lightbar, the NEW CFX-750™ display or even the advanced FmX™ integrated display and turns the steering wheel automatically, greatly reducing driver fatigue and allowing you to better oversee the implement or spray booms to improve the job quality.
The EZ-Steer system is easy to install, setup and use. Installation can be completed in less than 30 minutes with 1 wrench by anyone. No need for complex hydraulic interfaces. You can remove the system from a vehicle in a few minutes and never know it was fitted.
The EZ-Steer assisted steering system can be installed on any approved agricultural vehicle with power steering. This includes tractors, articulated tractors, sprayers, and combines.
The system is particularly good for operators who have an older tractor, for example, a Case 7200 series or a John Deere series 4000 tractor, and would like a low cost assisted steering device which is more accurate than foam markers.
Improve your accuracy with to 3-4 inch pass-to-pass accuracy with OmniSTAR HP corrections or even sub-inch with an RTK solution. Alternatively, you can upgrade to an AgGPS Autopilot™ system for operations demanding repeatability and 1 inch absolute accuracy.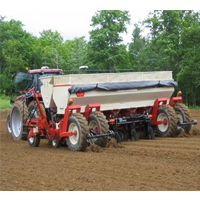 Trimble TrueTracker Implement Steering
Trimble introduces its new AgGPS® Implement Steering system for keeping implements pulled by tractors using the Trimble RTK Autopilot™ automated steering systems on the same repeatable path, even on extremely sloped fields.
The system includes its own implement-mounted GPS receiver and T3 roll-compensated control system. A single display in the tractor communicates desired path information to the implement, instantly adjusting the steerable coulters. This information instructs the implement to directly follow in the path of the tractor.
"By solving the problem of side draft, the new AgGPS Implement Steering system allows growers with RTK-corrected AgGPS Autopilot systems to steer their implements with the same repeatable accuracy as their tractors. This includes operations with high-value crops on level ground or crops planted on slopes," said Erik Arvesen, general manager, Trimble Agriculture Division.
The new AgGPS Implement Steering design includes components of the Tracker IV implement guidance system from Orthman Manufacturing Incorporated of Lexington, Nebraska. "Combining the precision and durability of the Tracker IV with Trimbles leadership in GPS positioning results in the agriculture industrys most advanced implement guidance system," said John McCoy, Orthman president.
Growers Don and Jim Rogers of Wray, Colo., have used Trimbles AgGPS Autopilot automated steering system with RTK correction for two years. They tested the new AgGPS Implement Steering system this fall with a 30-foot drill on steep, sandy slopes. "This implement steering system completes a package that is unmatched by anything we have seen or heard about before. From what weve experienced, it can enhance implement performance to produce almost perfectly repeatable guess rows on some seriously bad slopes," said Don Rogers.
Draft Problem Common - Variable soils, compaction zones, slopes and other factors often cause planters, seeders and tillage tools to swing from several inches to several feet either side of a tractors path across a field. Such random but severe side draft can make later field operations that need sub-inch repeatability impossible. In addition, side draft causes costly wear and tear on implements and tractors.