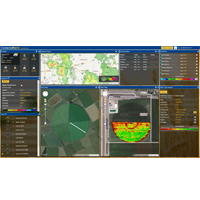 Vehicle Sync
Vehicle Sync, part of Trimble's Connected Farm™ solution, allows real-time wireless data exchange between multiple vehicles operating in the same field. Operators no longer need a USB drive to transfer data from one vehicle to another. Data such as guidance lines, instant yield and moisture, coverage maps, and other valuable data can be shared wirelessly with all operators, as well as their real-time locations. When used with Trimble's Field-IQ™ crop input control system, multiple operators can wirelessly communicate with one another to prevent over application of seed or other inputs. Improving communication between multiple vehicles not only reduces input costs but also improves operational efficiency and accuracy.

Fleet Manager
Fleet Manager, part of Trimble's Connected Farm™ solution, lets you track fleet locations and manage valuable information from the office or any location with internet access. Managers are able to transform their fleet performance by viewing time spent idling, moving, and traveling as well as delay reasons. Not only does this reduce the amount of fuel used, it also increases the amount of time vehicles are in productive use. By using Fleet Manager, you can maximize vehicle utilization and lower operational costs throughout your organization ensuring optimized fleet performance and ultimately, a better bottom line.

Office Sync
Office Sync utilizes wireless technology to send and receive data files between the office and field. Guidance lines, yield data, variable rate application maps, coverage maps, and other data files can be transferred safely without a USB flash drive. Wireless data transfer allows quicker access to vital information about your fields so that decisions can be made in a timely manner, such as fertility recommendations.

PurePixel Solution
The PurePixel™ solution, part of Trimble's Connected Farm™, provides farmers and their trusted advisors with a high precision source of vegetation health information to drive improved crop analysis. Most remote sensing based vegetation maps are plagued by issues with "noise" from soil color and moisture variability. Furthermore, these maps generally use noncalibrated information that limit the user's ability to compare crop health from one period to the next. The PurePixel solution not only removes the noise that undermines the accuracy of most vegetation maps, but also uses a precise calibration that allows for more meaningful analysis of the vegetation map information. Overall, the PurePixel solution provides high quality vegetation health information to improve farm and field management.