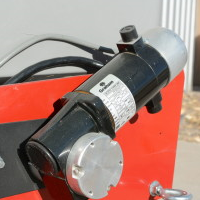 Graham Electric Drives
With the Graham EPD system, farmers can retrofit their existing ground-drive planters to state-of-the-art technology while decreasing maintenance costs. When used in conjunction with our Graham Command series of tablet based monitors, our EPD systems can eliminate chains, sprockets, and improve the precision in how you plant or apply liquid or dry fertilizers. We offer our Graham Lite with row-by-row variable rate and manual shut-offs as well as our Graham Pro, which is fully robust with prescription mapping, auto shut-offs, and turn compensation on a row-by-row basis. No matter what your budget, Graham offers an electric planter drive solution that can meet your needs.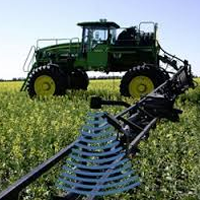 NORAC Boom Height Sensor
The UC5™ Spray Height Control system uses ultrasonic sensors mounted on the left, right, and center sections to automatically maintain a preset height of the entire boom above the ground or crop. With the introduction of this system, the well known height control performance that has been satisfying customers for years is now available through Ag Leader and AutoFarm displays, as well as a number of virtual terminal displays.
NORAC has the ability to measure and control all four boom movements independently (main lift, center section roll, and lift/lower of each wing). Communication between functions means that they move simultaneously; therefore contributing to a quick reaction time.
NORAC uses Roll Control™ technology, which not only predicts the effects of the boom and chassis roll on boom height, but compensates for it. This manages boom stability by preventing one boom's action from affecting the other. Using Roll Control™ means that the boom roll suspension system is able to perform as designed without interference.
In addition, customers with some John Deere models can add NORAC's patented Active Roll Control™ system. This is an extra hydraulic cylinder that is mounted between the chassis and the center section. It actively isolates chassis roll from affecting boom, which in turn increases wing lift speed and dramatically improves overall boom stability. This optional feature provides excellent control in extreme terrain conditions such as terraces and drainage ditches.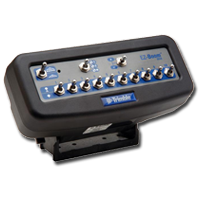 Trimble EZ-Boom
The AgGPS® EZ-Boom® 2010 automated application control system is designed to help growers cut input costs, ensure the accuracy of spray applications, and reduce stress during peak fieldwork periods.
It works with the Trimble AgGPS EZ-Guide® Plus lightbar guidance system, AgGPS EZ-Steer™ assisted steering system and AgGPS Autopilot™ automated steering system. AgGPS EZ-Boom adds value to these Trimble systems by automatically controlling up to 10 separate automated boom sections, delivering precise rate control field reducing the application cost of the chemical, simplifying installation and reduces equipment costs for spray systems, and producing an exact real-time summary map that shows the sprayed area.
Performance highlights:
Makes application operations more effective and economical... saves input costs by reducing over and under application of fertilizers and crop protection chemicals
User can gain rate control performance from EZ-Guide Plus system and still make good use of existing controllers without having to buy additional equipment
Precisely applies target rate across the entire field to ensure best-possible application job
Works with many popular spraying systems
Reduces operator stress by eliminating need to monitor pressure gauges outside the cab
Easy-to-learn... in about 15 minutes for those familiar with basic GPS tools such as the AgGPS EZ-Guide Plus lightbar guidance system or AgGPS EZ-Steer assisted steering system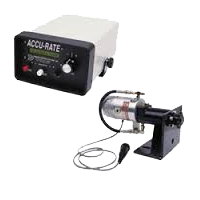 Rawson ACCU-RATE
Take the guesswork out of rate control, and put complete accuracy into hands you can trust...your own. With the ACCU-RATE Variable Rate Controller, precision accuracy is easily achieved.
Growers and custom applicators around the country are striving to gain precision and boost yields, and do both with a minimal outlay. By using the simply designed yet remarkably effective ACCU-RATE system, you can vary the rate of seed and all types of fertilizer, all from the comfort and convenience of your tractor cab. And without the higher cost and complexity of competitive models.
The processor can be programmed to accurately control two different seed populations, or to simultaneously change seed at one rate and fertilizer at a different rate when using two GIS prescriptions. The processor is also PC programmable, allowing even greater ease and versatility. And you don't have to worry about resetting; the processor's memory saves your programmed information, even when the tractor is turned off or when the processor is disconnected from the tractor battery.
Features of the ACCU-RATE Variable Rate Controller:
Versatile, mounts to any planter, drill, air seeder, granular and air spreaders and liquid applicators with constant volume pumps, such as the John Blue pumps
On/off jump start for instant start. Eliminate start up skips
Increase YIELD, STABILITY, and PROFIT
Easy to program. Calibrate your unit (seed, fertilizer, pesticides) before going to field. Runs in a stationary position
Eliminate ground drive chains, clutches and wheel slippage
Changes rates within milliseconds of changing the 32 position rate knob or getting a signal from GPS
Great for irrigated land
Compatible with other open architect companies for GPS and GIS
PC programmable, you can update your own processor
Three season warranty